Author William ROBERTS
Thursday, May 12, 2022, at 8:10 – The news

– The article has been read 88 times. Comments: 0. Average reading time: 7 minutes
With this high-end flagship model, Bryton offers a range of new high-quality features and third-party support to increase its functionality. In addition to group chat and group rides, the Rider S800 is a leader with a carefully selected, high-contrast outdoor display, navigation and training features, as well as compatibility with smart exercise machines, rear motorcycle radars, cycling dynamics and more!
Wherever you are and whatever your bike is, the Rider S800 will keep you safe.
Samuels Vangs, Bryton Inc. executive director:
With this product, we hope to expand the boundaries of what cyclists should expect from their GPS bike computers. Our team has worked with the best cyclists and coaches to overcome the common challenges that cyclists face while riding. When riding a bicycle with teammates or friends, many cyclists face the challenge of riding at different speeds, being easily different and not knowing where their partners are and what their current condition is. Keeping in touch with coaches or team members also allows someone to monitor the condition of each rider and give instructions if necessary.




Our goal with this addition to the S-Series is not only to offer new high-quality features, but also to bring people together like never before with innovative features such as instant messaging with voice dictation integrated into group chat so cyclists can communicate without interruption. their trip to check their phone.
The Rider S800 measures 105 x 58.5 x 14.2 mm and weighs 106 grams, offering a resolution of 272 x 451 pixels. It is compatible with GPS, Glonass, Galileo, Beidou, QZSS satellite systems.
Since this meter has been in my hands for a few days, I will give you a detailed feedback as soon as possible.
The Bryton Rider S800 is officially available in 2 different packages:
€ 399.95 for packaging "E". basic (device, protective cover, screen protector, remote support and security cable)

€ 479.95 for the "T" package.which also includes 3 BLE / ANT + sensors (device, protective cover, screen protector, remote stand, lanyard and speed, cadence and heart rate sensors).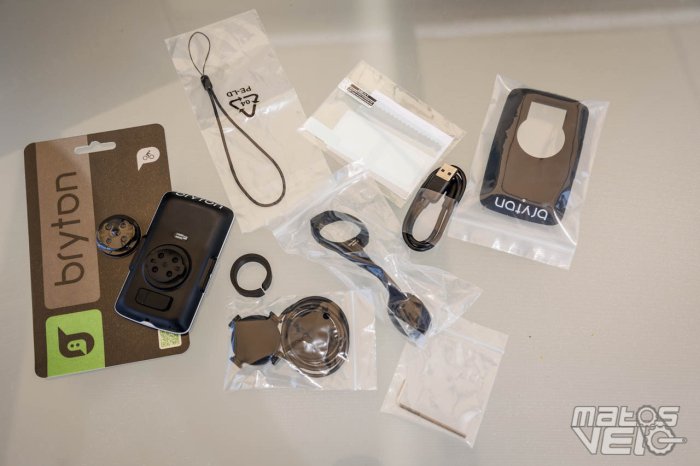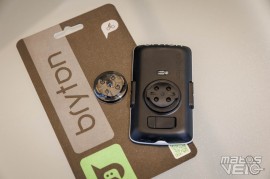 If the mount is typical of Bryton, the brand provides serious support for aluminum, which is not to be envied by K-Edge type supports. But the good news is, if you already have support with a Garmin mount, Bryton had a good idea of ​​equipping your Rider S800 with a removable mount with 4 screws.
You can then replace it with a version of Garmin, for example. A good sign in terms of life, if you ever break a fin, easily change the link!
Anyone who has ever encountered this problem will know how much of a difference this little detail can make.
Very large, clear MIP screen and 36 hours of battery life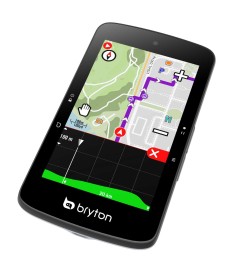 Equipped with a 3.4-inch screen, the Rider S800 uses MIP (Memory In Pixel) technology combined with an internal reflection layer to provide a better viewing experience outdoors without shadows on the screen. The extra-large MIP display with ultra-slim frame provides excellent high-contrast readability and high aspect ratio, making this Bryton GPS bike the first device with uncompromising clarity!
Often a large color screen is synonymous with low battery life. But not with this Rider S800.
Low power consumption thanks to the MIP screen and improvements made to increase efficiency
The Rider S800's power consumption, combined with a large battery, helps increase its overall efficiency and battery life by up to 36 hours. Without showing the map pages, the Rider S800 can extend battery life to more than 40 hours of continuous use.
The Rider S800 has the power and durability to meet any challenge. With mobile device charging support on the go, you can charge your battery to enjoy the entire journey wherever you are!
The Bryton Rider S800 can display up to 12 data per page. However, it is unfortunate that this model cannot manage more than 3 bike profiles. Hopefully the next update will fix this.
Voice search
The Bryton Rider S800 speaks your language! With an Internet connection, the Rider S800 eliminates the need for virtual keyboards by providing Google voice search in more than 100 languages, offering a faster, more intuitive, and more complete way to search.
addresses or places of interest on the road, on the track or wherever you are!
Advanced route features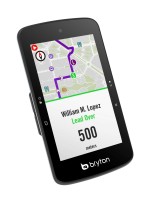 The Rider S800 includes comprehensive navigation features, including route and turn directions, all pre-installed on regional OSM maps. They support 16 levels of advanced zoom with on-screen POIs. In addition to navigation, the Rider S800 supports advanced features that help you stay on the road and get the most out of your journey, such as automatic rerouting, on-screen display of points of interest, reversing of saved courses and route tracking.
Plus, with Bryton Active, you can plan your routes or sync third-party routes, add custom POI / peak information to your tracks, and more!
The device map includes a large number of POIs, including workshops and bicycle shops, hospitals, water points, toilets, catering, etc. are displayed and a short description is displayed when you hover the cursor over the POI. In addition, the OSM maps included with the Rider S800 have been enhanced to provide ATV trails and other off-road features.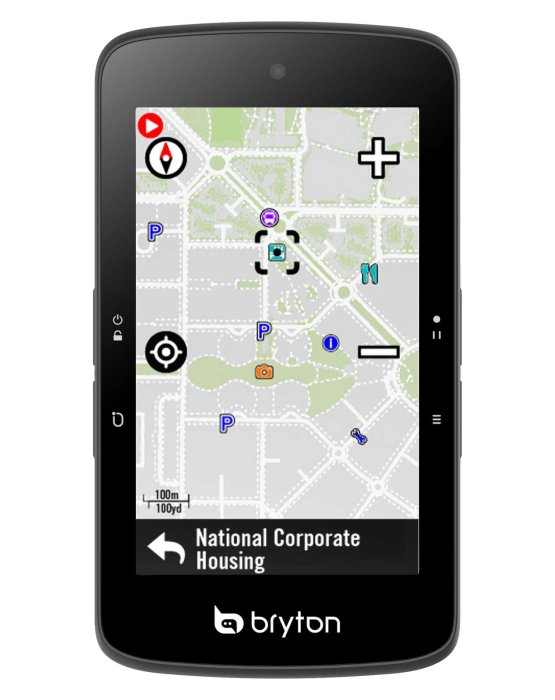 Climb Challenge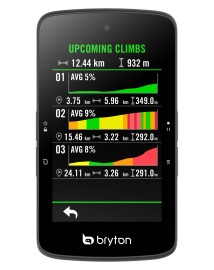 Reach new heights with the Climb Challenge feature. As you approach the climb, the Rider S800 switches to the Climb Section page, providing an overview of the climbing stages of the route. The Climb Challenge screen also includes a graphical summary with multiple climbs, brightly colored climbing segments, distance, elevation and ascent, and start and end points for instant access and course information.
After setting up a track with Climb Challenge, you can see upcoming climbs, distance to start / end of climb, current / start / end altitude, altitude countdown, remaining distance, category, altitude and more directly from the Climb page. Rider S800! In addition, as you follow the course and approach the climb, the Rider S800 will automatically switch between the Meter and Climb pages by default to prepare for upcoming altitude changes.
Route research
Don't leave any stone unturned with the Rider S800's new Explore feature, which lets you discover and explore the world on two wheels like never before. Just choose the distance you want to travel and let the Rider S800 guide you!
By creating up to three unique routes from your current location, the Rider S800 will help you explore the unknown and get you home!
Advanced structured training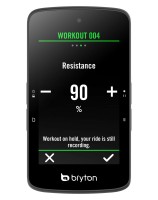 With a graphical workout overview with zoom support and new advanced features including real-time intensity control, TrainingPeaks, a new endurance workout mode and a workout note feature (to add notes from Bryton Active App or TrainingPeaks), your Rider S800 workouts are even better. !
See your workout, adjustable power zones on the target power page, and more with bright graphics! In addition to the workouts added to your calendar that appear on your Rider S800 after syncing, you can also save workouts from third-party sites in My Workouts and edit them directly from the Bryton Active app.
Cycling dynamics support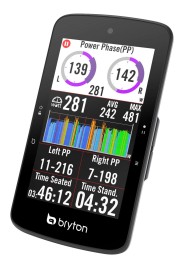 Cycling dynamics support takes power and training data analysis to the next level. When paired with a compatible power meter pedal, the Rider S800 can display static and graphical data on the meter pages, including sitting / standing position, power phase (PP), offset from the center of the platform, and right and left balance, all in the Rider S800's dynamic on the screen. screen.
Customizable quick status menu
Get access to important cycling data at your fingertips! You can view the quick status menu at any time from the meter page by simply tapping the screen. Customize this menu with the data that matters most to you, including lap information, paired sensor status, and selected trip data.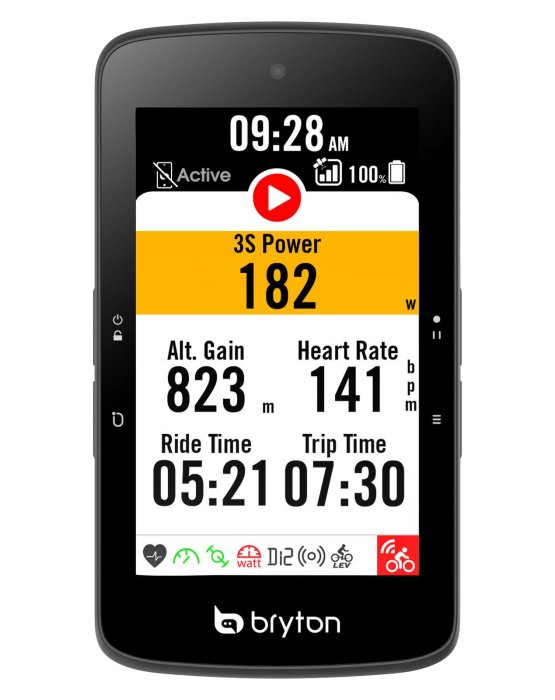 Radar compatibility
The Rider S800 supports ANT + radar after a simple pairing. The radar bar on the speedometer page shows approaching vehicles via the Rider S800's color display with easy-to-understand vehicle icons and status changes, as well as 3 warning levels and audio notifications.
Live track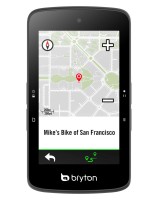 Share your location in real time with friends and family with the new Bryton Live Track feature. Simply generate a share link directly from your phone and use it with any messaging app at the touch of a button.
For added convenience, users can also choose to automatically send invitations to the required contacts via email. With an online tracking link, anyone on the web can track and view not only your location in real time, but also your current speed, travel time, travel time, and distance!
Group discussion and trip
The Rider S800 is even more fun with friends! With the Bryton Active app, select your route, invite friends to a group, and watch live updates from group members on your route right from your device. Connect, cheer on friends, or send status updates to others using voice input to create customizable messages right from your Rider S800. Plus, with the Bryton Active app, all you have to do is press a button to set up a group trip.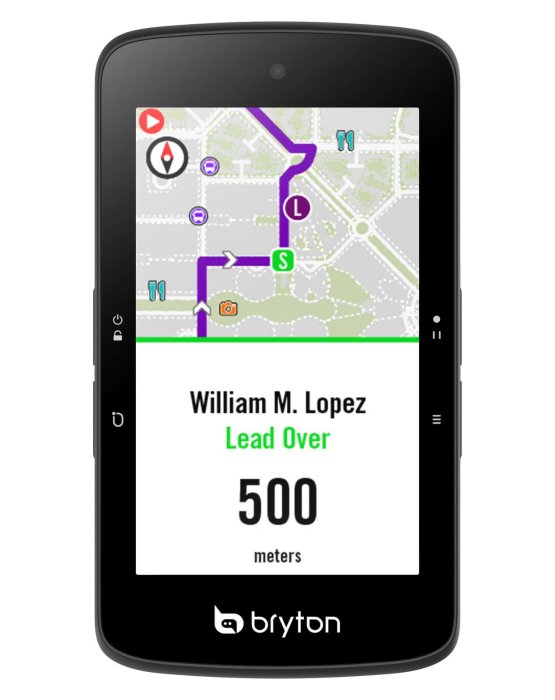 Source: Press release
"Falls down a lot. Writer. Passionate alcohol maven. Future teen idol. Hardcore music practitioner. Food fanatic. Devoted travel fan."