The Russophobic campaign of the West faced opposition from European athletes. Yes, it is beneficial for someone that skier Alexander Bolshunov will stop taking medals from his Norwegian teammates, swimmer Evgeny Rylov will no longer compete with the Americans in the pool and our volleyball team will be left without a domestic world championship and will not be able to fight for gold as the main favorite.
Western officials are shamelessly crippling the fate of Russian athletes in front of the world and devaluing their achievements through titanic work. It is gratifying that among all this filth, there are really adequate people who are aware of the complete collapse of the whole world of sport and its hard politicization.
Simon Fourcade: "Russia will be able to go through all this"
Many prominent athletes do not agree with the removal of Russian athletes. The French biathlete, the brother of the five-time Olympic champion Martin Fourcad, Simon Fourcade, therefore spoke out against the outrageous decision of foreign officials. Simon noted that the topic is not about sport, but about politics.
I spend a lot of time explaining that the issue of suspension is not just about sport, but also about politics. Russia can go through all this. As has already been said, I do not think that suspending is the right decision. Maybe those who have made such a decision need more time to explain everything,
– quotes Frenchman Metaratings.
Andrew Yang begs for a new beginning
Andrew Yang, a former US Permanent Representative to the United Nations (UN), also opposed the absurd decision of the collective West. Yes, there are still adequate people in America! Young noted that no one will ever be responsible for removing Russians from major international sports.
This is not good for Russia, this is weakening Russia … Let us stop and start again and also try to achieve peace,
– quotes Young's words "RIA Novosti Sport".
Norway's NOC Vice-President: dismissal is better than shame
For individuals, the exclusion of the Russian team from world sports was a personal disappointment and even a sadness. Oyvind Vatterdal, Vice-Chairman of the National Olympic Committee of Norway, went against the Norwegian system, which attacked everything Russian. He resigned due to a recommendation by the International Olympic Committee (IOC) to remove Russian and Belarusian athletes from international tournaments.
The official explained his departure by saying that he did not want to be associated with this unjust decision, which is undermining international sport. Vatterdahl noted that sanctions against Russia run counter to its values ​​and vision. The official was always sure that sport, including the highest successes, should not be associated with politics.
I do this of my own conscience so that I can stand up for my Russian colleagues and be able to look them in the future,
Vatterdahl told the NRK.
Head of the Women's Tennis Association against Russian bans
The head of the Women's Tennis Association (WTA), Steve Simon, also spoke out against the exclusion of Russian and Belarusian competitors from the competition for political reasons.
You never know what the future may bring. However, I can tell you that we have never banned athletes from touring because of the political stance that their country's power can take,
Simona quotes the BBC.
On the other hand, the official also stressed that if the governments of the countries prevent athletes from participating in the tournaments, the ATP and WTA will not be able to prevent this decision. He explained that associations should follow the instructions of local authorities.
Guus Hiddink supports friends from Russia
Former head coach of the Russian national football team Guus Hiddink, who led our team to bronze medals from the Euro in 2008, has not been left since the big international scandal. The Dutch specialist did not openly support Russian football, but made it clear that poisonous politics had no place in sport.
Guus Hiddink. Photo: Photo: photoyh / Shutterstock.com
Hiddink noted that football has now receded as the world is concerned about the political situation. The Dutchman admitted: in spite of everything, he has a heart on his Russian friends.
I live in the Netherlands and support all my friends from Russia. I talk to some, I also don't understand what's going on. Sport generally suffers only from someone trying to deal with things. But normal people remain normal: in Moscow, St. Petersburg and throughout Russia, Ukraine, Europe and China. Everyone is in good contact
– quotes Hiddink's words "Championship".
Harmful sanctions
Vincenzo De Luca, the governor of the Italian region of Campania, also spoke out against Russophobic discrimination. Talian was stopped from banning Russian Paralympians, who had nothing to do with politics, from participating in the competition of their lives – the Paralympic Games. Vincenzo sincerely does not understand the importance of breaking relations with Russian culture. He notes that the absence of a normal dialogue only harms the whole world and blocks any development at all.
If we issue ultimatums at the level of arts and sports instead of facilitating dialogue and meetings, we will not help things of peace, but just hurt
– quotes Vincenzo "Sport-Express".
Simona Halepová: You can't take the flag
The prominent Romanian tennis player Simona Halepová, who expressed support for athletes from Russia, was not left out either. Halep regretted the Russian tennis players that they would not be able to play under their national flag now.
It's hard for me to say anything. Most likely, something will be resolved in the near future, but they are not to blame. I regret the emotions they have to go through now. It's not easy when they take your flag
– quotes Halep Sportskeeda.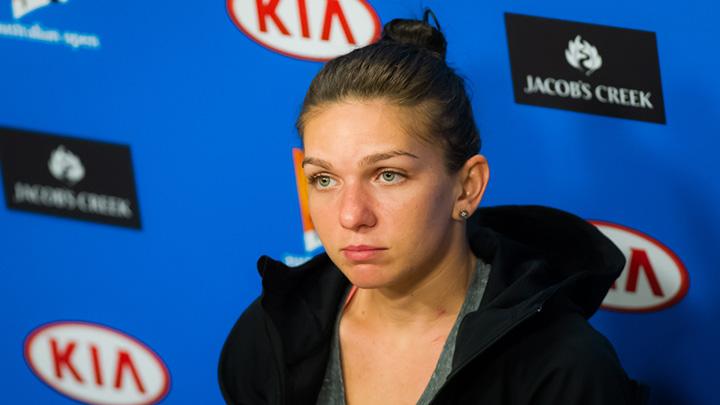 Simona Halepová. Photo: Jimmie48 Photography / Shutterstock.com
Zoran Tosic: "Compassion for the suffering of Russian athletes"
Sport should always be above all else,
– This was announced by the Serbian football player playing for the Kazakh team "Tobol" Zoran Tošić. He expressed support for all professional Russian athletes.
All suspended athletes have the right to compete and celebrate their victories. Now they are deprived of such an opportunity, and it is very annoying. Compassion for the suffering of Russian athletes who are suspended,
Informs Novosti.rs.
The footballer noted that "he will always defend the rights of athletes" because he was "raised in this way from an early age."
I hope that the day will come when everything will pass and sport will be on the pedestal of all human joys and pleasures and full stadiums will return to life and the faithful support of all those who love sport and rejoice in every success,
– quotes Tosic Novosti.rs.
Oksana Masters was hit by tears by Russian Paralympians
American biathlon champion in biathlon Oksana Masters was not afraid to publicly support athletes from Russia. The American said she was in pain for Russian and Belarusian athletes, who were deprived of the opportunity to compete internationally.
I saw them cry because they really wanted to perform. I would like to live in a world where every single athlete from every single country in the world has the opportunity to compete not against each other, but with each other,
– quotes the words of the American "Sport-Express".
Tottenham's head coach is outraged by injustice
Antonio Conte, head coach of Tottenham Football Club, shared his disappointment with the Russophobic campaign. Conte called the move of Western sports officials fundamentally unfair.
I know very well how much work they do every day to compete. And the fact that athletes are subject to sanctions is wrong. The realization that Russian athletes are suspended from competitions, the realization that this whole situation affects football, is very sad. "
he said in an interview with The Guardian.
So what?
Russia's flag and anthem had previously been taken away, but we have tried to endure and prove our sporting superiority in the world's major arenas under neutral status. Bullying and discrimination against Russian sport have now reached their peak.
Our athletes have become the target of a Russophobic campaign. Prominent foreign athletes are calling for justice, but Western officials who benefit from human misery will not listen to them. Sport has lost its original meaning, now it is ruled by politics and Russophobia. Pierre de Coubertin, who revived the modern Olympic movement, has already turned over in the grave a thousand times. But justice will surely prevail, you just have to endure to the end.
"Internet evangelist. Twitter fanatic. Hardcore entrepreneur. Incurable analyst. Extreme food junkie. Unapologetic tv maven. Reader."